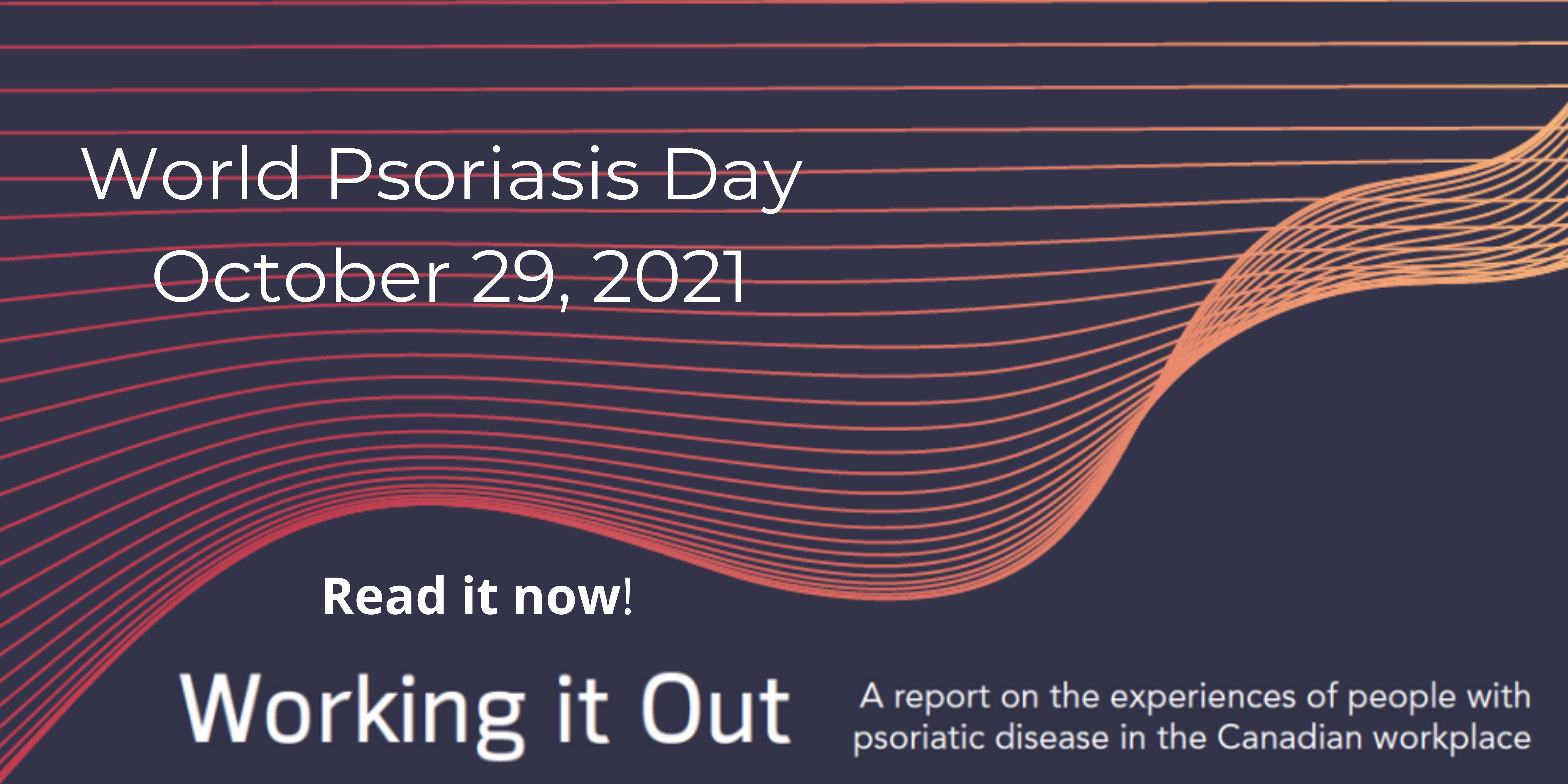 On World Psoriasis Day 2021, the Canadian Psoriasis Network (CPN), the Canadian Association of Psoriasis Patients (CAPP), and Unmasking Psoriasis, an awareness group in Saskatchewan, released findings from Working it Out: A Report on the Experiences of People with Psoriatic Disease in the Canadian Workplace, demonstrating that the accommodation needs of many people with psoriatic disease remain unmet.
The onset of psoriatic disease - including psoriasis and psoriatic arthritis - commonly affects people in the prime of their lives, with psoriasis typically being diagnosed between the ages of 15 and 30 or 50 and 60.
Significant numbers of people in Canada with psoriasis and psoriatic arthritis (psoriatic disease) say their condition has a significant impact on work and that they need information and support on a variety of workplace-related topics to help them navigate their accommodation needs.
Drawing inspiration from the International Federation of Psoriasis Associations (IFPA) theme of #BeUnited for World Psoriasis Day 2021, the groups are asking employers and policymakers to #BeUnited and support people with psoriatic disease in their work lives.
The three patient groups call on employers and policymakers to recognize that psoriasis and psoriatic arthritis are episodic and chronic diseases that can result in disability without appropriate care, treatment, and support - including in the workplace. Initiatives are needed to educate employers and policymakers about the potential impacts of these conditions on patients and their families. Workplaces can make a difference by providing workers with the tools that they need to understand workplace policies on disability and accommodations and supporting workers who need them.
Read our full media release here.
Disability Advocacy
Psoriasis affects up to 1 million Canadians and is a chronic inflammatory condition of the skin, causing itchiness and pain. Approximately 30% of people with psoriasis live with psoriatic arthritis (PsA), a chronic, autoimmune form of arthritis that causes joint inflammation, pain, and stiffness in the joints. Often people with psoriasis or psoriatic arthritis are in their prime working years. Psoriasis symptoms can begin at any age but often begins between the ages of 15 and 25. People with psoriasis or PsA often live with comorbidities, including diabetes, depression, anxiety, and cardiovascular disease, causing further stigma and discrimination. These health conditions are episodic in nature – meaning people can experience periods of low disease activity followed by a flare or exacerbation of disease. Because these illnesses are lifelong and affect financial security, employment, and transitions from school to work, it is important that early support and take action to support people living with psoriasis and PsA.
Our Submission to the federal consultation on a Disability Inclusion Action Plan
We appreciate the educational grants and sponsorships from multiple funders to develop the survey and this report:
| | | | | | | | |
| --- | --- | --- | --- | --- | --- | --- | --- |
| | | | | | | | |
| | | | | | | | |
| | | | | | | | |