This is a very uncertain time for all of us. We are working closely with our partner organization, the Canadian Skin Patient Alliance (CSPA) and medical and scientific experts to answer your questions and help provide you with up-to-date information about how to stay healthy. Please visit canadianskin.ca/education/covid-19 for information about the risks and impacts of COVID-19. That page will be updated regularly and new Q&As shared on CSPA's and CAPP's social media. If you have any questions that you would like answered, please let us know at or on their social channels.
Psoriasis and Covid-19 Registry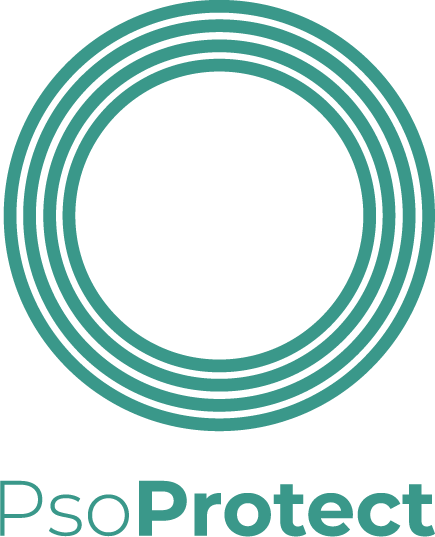 The Canadian Association of Psoriasis Patients is partnering with other patient and healthcare provider organizations around the world on PsoPROTECT, a registry of psoriasis and psoriatic arthritis patients who have COVID-19.
PsoPROTECT seeks to rapidly improve our understanding of how factors such as immunomodulator therapies and comorbidities impact outcomes to COVID-19 in psoriasis. This information will inform clinicians when assessing risk and treating COVID-19 in patients with psoriasis.
Dermatologists, rheumatologists and other healthcare providers can fill out a short form to report cases of COVID-19 in psoriasis patients using the online PsoPROTECT case report form. This form collects de-identified data and takes approximately 5 minutes to complete. Your healthcare provider will be provided with a copy of your completed report form once it is submitted.
The PsoPROTECT registry will provide regular, open access summaries of all reported cases for the benefit of the international psoriasis community.
Other Resources
We are happy to share these links to COVID-19 resource pages from other patient organizations.
Canadian Arthritis Patient Alliance (CAPA)
Check here often for links to CAPP in the news!
October 29, 2014
CAPP Vice-President Eva Borkenhagen appears on CTV Calgary Morning Live.
In 2018 in World Psoriasis Day we developed a report to highlight the changes to the care and treament environment for psoriasis patients in Canada over the last four years. While there have been many advances in the number of treatments available, there is still work to be done to ensure equitable access to these treatments as well as dermatological care in Canada.
Read the report to find out more.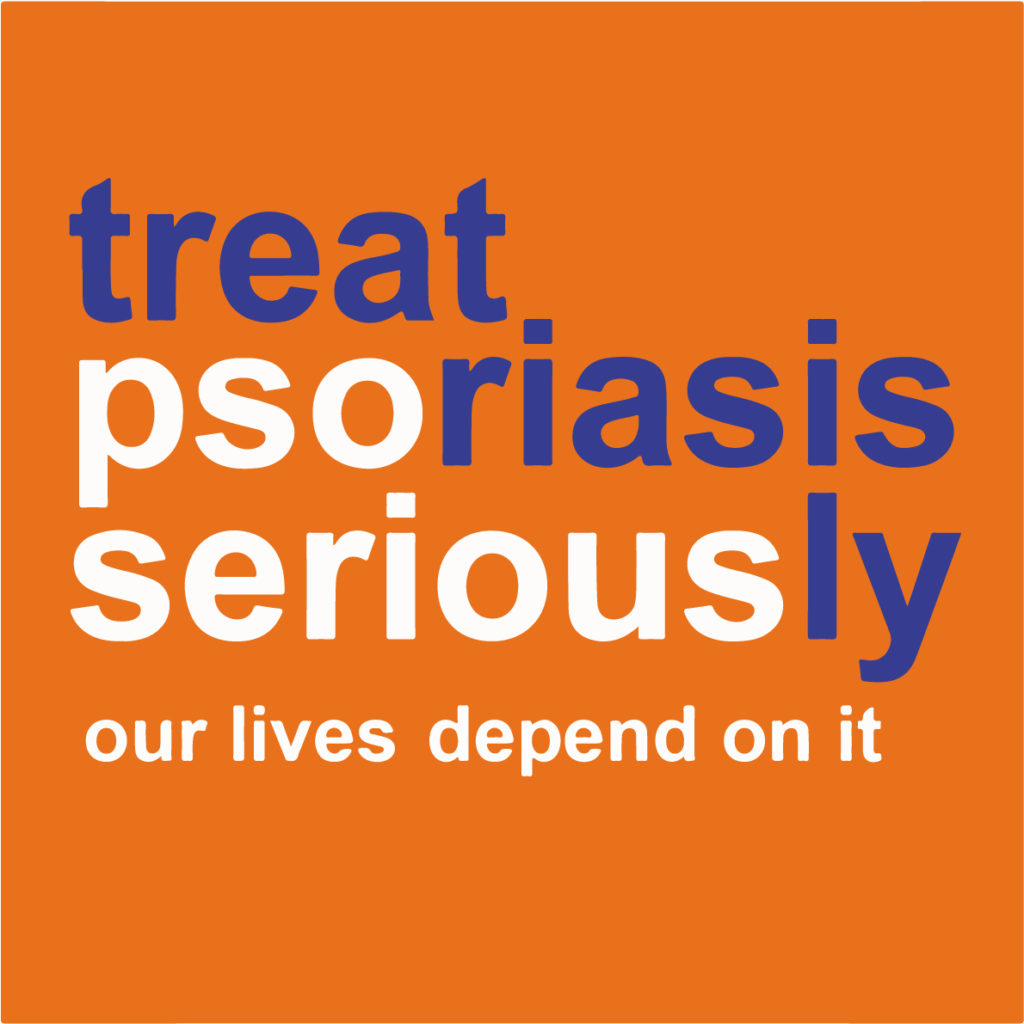 2014 Report
Canada Gets Failing Grade in Caring for Psoriasis Patients
Did you know that where you live in Canada greatly impacts your treatment options?
Today, the Canadian Association of Psoriasis Patients (CAPP) released a sobering reportoutlining the sub-optimal access to care and treatment for psoriasis and psoriatic arthritis patients in Canada. The provincial/territorial rankings demonstrate that where you live in Canada greatly impacts patients' access to dermatologists and treatment options.
Check out our infographic that gives you an overview of the report card findings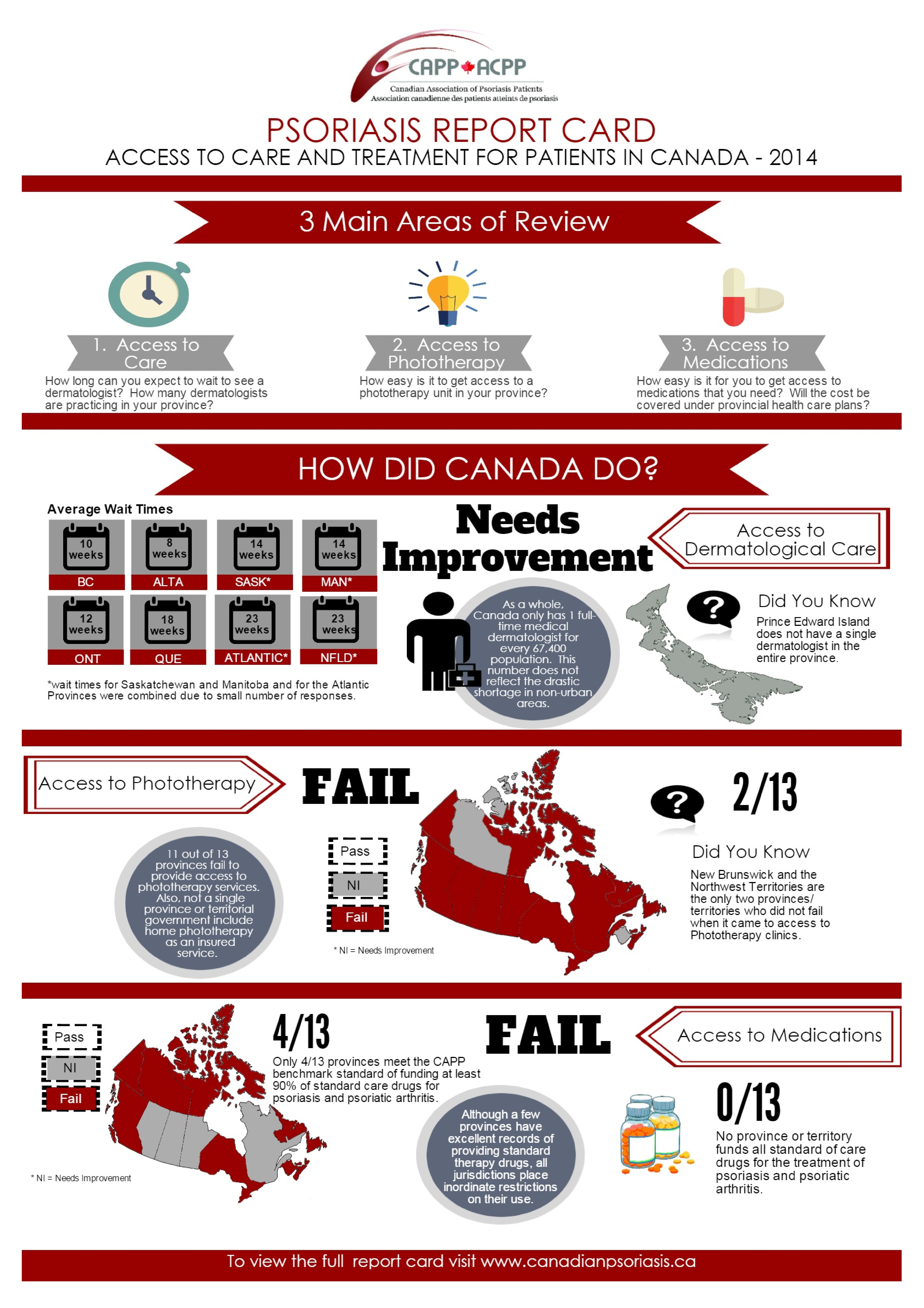 Click Here to Read the full Report Card and See how your province fared.
Subcategories